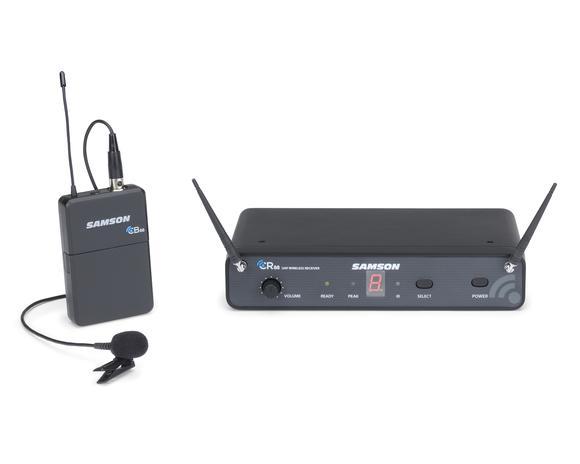 Samson Concert 88 Lapel Wireless System
Samson's Concert 88 LM5 Presentation Wireless System offers a high-performance UHF wireless solution where the freedom of mobility is a must. It's perfect for business professionals, educators and others looking for stunning sound and versatility without cables.
The frequency-agile Concert 88 LM5 Presentation allows for up to 16 systems to operate simultaneously (region dependent) with up to 300' separating the receiver and transmitter. At the core of the system is the CR88 Wireless Receiver. Featuring a true diversity design, the CR88 minimizes signal dropouts during performance. If a dropout does occur, the CR88's tone key and auto mute functions eliminate any background noise until the signal is restored.
The CR88 receiver's front panel provides a Select button for auto syncing receiver and transmitter channels via an infrared signal. The panel also features a 7-segment Channel LED, Volume knob, Power button, two tuned antennas, as well as Audio and Ready indicators, for optimal functionality and monitoring. Balanced XLR and 1/4" outputs can be found on the receiver's back panel.
The Concert 88 LM5 Presentation features the CB88 Beltpack Transmitter and LM5 Lavalier Microphone with a locking connector. The transmitter, which can operate for up to eight hours on two AA batteries, is engineered to the finest detail to provide the ultimate in sound reproduction.
With Samson's Concert 88 LM5 Presentation Wireless System, advanced technology and total versatility combine to provide high-quality wireless performance wherever business professionals, educators and others need it.